Review: Madden 12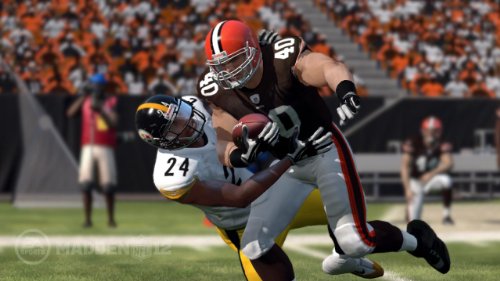 Review: Madden 12
After extensive playing all of EA Sports' 2011 video game lineup I feel that it is now fair to review each and every one for the masses. Madden 12 is the one I want to review first because I want to do it somewhat chronologically. Every year, Madden seems like a yearly roster update, and I believe this is mostly stemming from no competition. I won't even start on a rant about the competition in sports video games, and you will hear the reason why when I review FIFA 12 last.
Improvements
Madden 12 boasts a lot of improvements, and some of them do deliver on a better experience from Madden 11. One of the biggest improvements is in the physics engine, it seems this year all of the EA sports titles had new physics improvements that really make the games feel better than ever before. In Madden 12 it comes out in fewer scripted tackles and a lot more big hits that look and feel realistic. However, it could still use some improvement with some awkward tackles and mess ups by the engine.
Another thing we see is some franchise updates this year. It seems that some sports titles this year think it is ok to just update one game mode and that is sufficient. But as a fan, it angers me when a mode I love gets almost no update. Franchise gets new practice modes, expanded rosters, and new free agency modes. Be a Pro mode was somewhat left out, but finally got practice mode back that helps the character gain skill points. Other than that it is the same bland and boring mode it has been for several years. Madden and all the other sports games with this mode in it need to go and take notes from MLB the show and NBA 2k: both have amazing modes that show the other developers could do more!
Online was also left alone, with the normal head to head and online franchises, and no improvements to it either. Ultimate team got a couple of updates, but this mode is already old and boring. In my eyes it is just a way to cash in on desperate users who would rather have an amazing team then work or put the time into it.
Graphics and other tidbits
The graphics in Madden look pretty good as always. There hasn't been much improvement to this part of the game in quite a while, and you wonder what they could possibly do to this generation to make it better. It seems they just want to focus on the little things. Although I think this is good, they seem to ignore the big things that should be taken care of first.
Final thoughts
Madden is a decent game, but it is becoming more and more relevant that the series is getting stale and the lack of competition puts no incentive to make the game a ton better each year. Why would you? I know if I could make millions of dollars do the least amount of work possible, I would! Wouldn't you?! So that is exactly what we get with some of the sports games on the market. Maybe one day the NFL won't renew their contract and we will see the return of NFL 2k. But right now it only is going to happen in our dreams, and on the original Xbox/PS2 when I play NFL 2k5 (the greatest football game to date!).
Madden 12 is decent, don't get me wrong, but it is getting old quick! I'm already ready to trade it in!
Make sure to follow Better With Popcorn on Twitter @BWPFeed!
Die Hard named the greatest movie of all time. Just deal with it.
Leave a comment in one of our reviews, if you dare.
Welcome to Better With Popcorn. We've got fun and games.
All your blog belong to us.
Check Out These Other Awesome Sites.