Fall Sports Preview: Madden 12, NHL 12, and More!
It's that time of the year already, and we are well into training camps around the country. Which can only mean one thing, fall sports video games are just around the corner. NCAA 12 was released last month (review to follow) and Madden is only a week and a half away. So let's look at the sports games that will be coming out in the next few weeks and months that everyone will be playing.
----------------------------
Madden 12
Will Madden 12 be one of the better next gen entries into the series? With EA having monopolized a lot of the sports market in Madden and even NHL right now, there is not a lot of incentive to bring a ton of new features to the game. This year one of the biggest additions is the dynamic player performances. How it works is when a player is in game and week to week, their performances in games change their ratings and tendencies. For instance, in the Madden demo, if you start putting pressure on Bears quarterback Jay Cutler, his accuracy goes down as well as his tendency to scramble more. This should make each game more important, and also making decisions in free agency and the draft that much more important in franchise mode.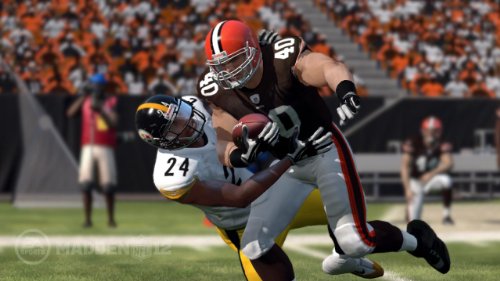 The other couple of big improvements include overhauls to franchise mode and superstar mode: FINALLY!! Franchise has gotten some much needed improvements for numerous things. The Madden team has finally made the preseason and training camp important. The teams need to play preseason games to reveal ratings for all drafted and undrafted players. Then it will ask you each week to cut players and with the new increased rosters it will allow for a lot more moves that open up.
Superstar mode has been finally tweaked: a little... They say that practice will now matter like NCAA's campus legend mode. Practicing will increase your ratings and help your player grow. Other than that, that's it! What the hell EA? Several years ago we had the combine at least to help our draft status, but they take it completely out and never bring it back?
Other than those additions, there are a few more like new presentations and new tackling engine that we saw in NCAA 12. We will have to see if the new franchise mode is worth it.
Madden 12 is being developed by EA Tiburon and is set to hit the PS3, Xbox 360, Wii, Nintendo 3DS, PSP and PS2 on August 30, 2011.
-----------------------------
FIFA 12
FIFA is a game that I am looking forward to the most this fall! The game always brings it because they have competition that they must compete with. The new tackling system is amazing in action and a lot of the improvements have been in gameplay and they make for a near perfect game that will make it feel just like the real thing.
The career mode has gotten a jump in the AI and should make for a deep mode. More info will be released in the coming weeks before the release.
FIFA 12 is being developed by EA Canada, and is due to hit store shelves for the PS3, Xbox 360, Windows, Wii, PS2, PSP, Vita, Xperia Play, 3DS and iOS devices on September 27th, 2011
--------------------------
NHL 12
NHL 12 is a highly anticipated game, however with 2K sports being out of the business of hockey games for a while, EA has kinda slacked on a great franchise. For some reason, this year just hasn't got me excited for this game. A lot of the newest additions have to do with the new physics, which make the goalies live for the first time ever. This is a much needed addition, but other than that a lot of the things being added have been featured in older versions of the game.
Be a pro mode has been extended so that you can play your whole Junior career and then move onto the NHL via the draft. While franchise mode has gotten a few upgrades as well. New AI, better trading, retired jerseys, and a few more, but not too much added either.
It seems that the secret mode that was just announced was what the creators spent the most time on: Legends. So it looks like they are making the ability to bring back Legends players for all the modes in the game. So far Gretzky, Borque, Chelios, Salming, Roy, Roenick, and Yzerman have been revealed with two more still to reveal.
Here's the latest video preview from EA:
Other than these additions, there hasn't been too much added to the game, and it is kinda dissapointing.
NHL 12 is being developed by EA Canada and is due on store shelves for the PS3 and Xbox 360 on September 13th, 2011
------------------------------------
Once all these games are released, look for full reviews from yours truly!
Make sure to follow Better With Popcorn on Twitter @BWPFeed!
Die Hard named the greatest movie of all time. Just deal with it.
Leave a comment in one of our reviews, if you dare.
Welcome to Better With Popcorn. We've got fun and games.
All your blog belong to us.
Check Out These Other Awesome Sites.