"Two and a Half Men" Season Premiere Recap
Update: Last night's show drew 28 million viewers, including a 10.3 rating in the 18-to-49 demo, a series high by a large margin for the show, and rare numbers for scripted shows in general.
Unless you've been living under a rock (of cocaine) for the past year, you've probably heard of what happened between Charlie Sheen and "Two and a Half Men" over the course of 2011.
After realizing that Charlie Sheen was a booze, whore and drug hound -- about 15 years after the rest of us -- the show's creator -- Chuck Lorre -- the network it airs on -- CBS -- and the show's production studio -- Warner Bros -- decides to can the actor for what he was doing basically off-set, and cancel the rest of the season in late-February.
As it turns out, we were all sort of quick to judge Charlie Sheen. The situation he found himself in earlier this year only further spun him into a web of destruction. The Charlie Sheen we saw wielding jars of blood and machetes on top of Los Angeles buildings, drenched in cold sweats during interviews and basically making no sense during live Internet broadcasts was not the real Charlie Sheen. Don't believe me? Just watch this past weekend's Emmys, where Sheen looked clean, calm, collected, and surprisingly younger as he presented an award to Jim Parsons and apologized to the cast and (most of the) crew of his former show. This was further proven last night during his roast.
CBS and Lorre have seemingly realized that they were in the wrong dismissing Sheen, as they're about ready to settle a lawsuit with the actor, a settlement that will pay Sheen up to $25 million.
So, by the looks of it, that hatchet is more-or-less buried. Sheen will move on to his new show "Anger Management" (based loosely on the Jack Nicholson/Adam Sandler movie), which is reportedly being pitched to networks this week. Also moving on is Chuck Lorre and the crew at "Two and a Half Men", which began its ninth season last night on CBS, sans Sheen, who the show had long planned to kill off.
Replacing him, as we all know, is Ashton Kutcher, a change which will no doubt change the pace and tempo of the show. There's no doubt that most of the world was watching that first episode last night, but how did it resonate? Can the show survive without Charlie Sheen? More importantly, can Kutcher find chemistry with his co-stars?
Short answer: leaning towards yes.
Last night's episode of "Men", titled "Nice to Meet You, Walden Schmidt" was surprisingly refreshing, funny, and entertaining. Kutcher was funnier than he's been since he stopped playing Michael Kelso on "That 70s Show", Charlie's death was decently handled and provided for some laughs and good cameos, and set up a new relationship and dynamic between Kutcher and Jon Cryer that could very well carry the show through the season.
The episode begins with Charlie's funeral. Charlie's favorite clothing -- the signature bowling shirt and shorts -- are hanging at the front of the funeral hime, and it's closed casket, because Charlie's body exploded after he "tripped" in front of a speeding metro car (according to his oft crazy fiancée and stalker, Rose, who found him cheating on her the day before), which upsets many of the funeral's attendees -- which is of course laced with many of his former lovers and girlfriends, many of whom you'd recognize from past episodes and seasons -- as they were planning on spitting on his dead carcass. In fact, no one at the funeral seems to care about Charlie other than his brother. Their mother is more preoccupied with selling the beach house, Jake is more preoccupied with eating, and everyone else pretty much hates Charlie, or is looking to collect on drug debts.
Later, Evelyn is holding an open house for the beach house, which was given to Alan, but is too heavily indebted to keep. The cameos keep rolling in, with John Stamos and even Dharma & Greg (Jenna Elfman, who's already appeared on the show as another character, and Thomas Gibson) makng appearances. That night, Alan mulls over what he's going to do, both with Charlie's ashes and with his life, but he gets up to notice a wet, depressed-looking Ashton Kutcher staring at him through the patio door -- which causes him to spill the ashes all over the floor.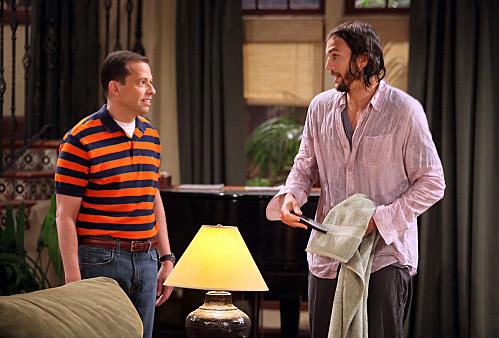 It turns out the man is Walden Schmidt, a depressed billionaire who was trying to kill himself because his wife left him, but decided not to because the ocean was too cold. Alan talks him out of killing himself and into drinking at a bar, where Walden proceeds to pick up two girls, leaving Alan alone and woman-less, a scene he's way too familiar with.
The next morning, Judith and Jake walk in on a once-again nude Walden hugging Alan for saving his life, as he proclaims that he will buy the beach house, as the episode ends.
The season premiere of Men had its ups and downs. Some uncomfortable lines during the funeral opener, but generally funny and brushing the line -- as the show often does. While the scene did no favors for Charlie Sheen, it also oddly made no attempts to make him look like more of a bad guy than Chuck Lorre or any of the show's other characters.
The episode also set up a couple of interesting new dynamics. Charlie is now dead, but not lost to Alan, to the point where I wouldn't be surprised if the show often referenced him, or even used his "ashes" as a comedic weapon -- Alan claiming that Charlie wanted Pamela Anderson to swallow his ashes may have been the line of the night.
The show also has to deal with the fact that they took a pretty decent comedic actor and replaced him with basically a one-hit wonder. Ashton Kutcher will always be Kelso in the minds of most, or the guy from a lot of crappy romantic comedies. He was pretty good in the premiere, but a lot of that could be attributed to the obvious chemistry he has Jon Cryer. There's no denying that Cryer is a great talent with good timing and a proven track record, especially when it comes to Men, but he always had Charlie Sheen to bounce off of. Now, he has to carry a show, and he'll likely have to carry Kutcher, even though the two seem to be good together.
Lorre, Cryer, and now Kutcher have a big challenge ahead of them. Will they be remembered as the show that fired Charlie Sheen, or will they be the show that survived without him? Based solely on the season premiere, I would lean towards the latter. But there are more than 20 episodes in a season, and it's tough to keep people's attention for all of them. And it's going to be hard to replicate not only the chemistry that Charlie and Alan had, but the often serious topics that the show skirted with and made fun of (as I say this, I'm remembering the several fart jokes last night's episodes made, but the point still stands).
That said, they have my attention. At least for one more week. Frankly, last night's episode was one of the best episodes of Men that I've seen in a few years. The opening was as deep and seemingly meaningful as anything they had done before, and a brand new chemistry was made prevalent. As a whole, it actually worked. But maybe our expectations were a little low?
The season premiere of Two and a Half Men gets an 7 out of 10.
Make sure to follow Better With Popcorn on Twitter @BWPFeed!
Die Hard named the greatest movie of all time. Just deal with it.
Leave a comment in one of our reviews, if you dare.
Welcome to Better With Popcorn. We've got fun and games.
All your blog belong to us.
Check Out These Other Awesome Sites.