The Top 25 TV Moments of 2011: Numbers 25 To 11
Last year, we took a look at the top 20 moments on television from 2010. Another year has passed, and as we prepare to dive into 2012, it's time to take a look back at all the moments that had us either laughing, crying, or on the edge of our seats for the past year.
Just like in 2010, 2011 was filled with television controversy, plenty of laughs, and lots of developments surrounding your favourite shows. As a result, we've increased our list to 25, and we will present it to you over the course of the next few days in two parts. Without further adieu, here are moments number 25 to 11 that were either our favourites, or that we thought were significant enough to change the landscape of some of our favourite shows.
Spoiler Alert: Needless to say, many of our favourite moments will include spoilers from this past year's shows, so read at your own risk!
25. NBC's Parade of Failures
Series: The Playboy Club, Wonder Woman, Prime Suspect, Free Agents, America's Next Great Restaurant, The Cape, Chase, The Event, Friday Night Lights, Law & Order: Los Angeles, Love Bites, Outsourced, The Paul Reiser Show, Perfect Couples.
NBC's struggles have been well documented over the last few years. Their clear lack of a direction has been their kryptonite. Do they want to be the network that airs great, limit-pushing television like Community, or do they want to be the network that airs crap like The Playboy Club and Love Bites? That indecision has led to a parade of cancellations that seemingly grew to an all time high in 2011. The network had to cancel nearly 15 shows this past year, and things aren't looking that great for them in 2012. Chuck is pretty much done, Community is on hiatus, the Office can't be far from ending, Whitney is terrible, and Chelsea Handler's new show is cringe-inducing just from the promos. NBC continues to dig its hole, but this past year was especially bad.
24. Late Night Hosts Cover Rebecca Black's "Friday"
Series: Conan, Late Night, The Colbert Report
2011 was marred by the arrival of Rebecca Black. Her low-budget, ridiculous and nonsensical song "Friday" drove me to the brink of insanity, but it was also the source of a lot of Late Night parodying. Pretty much everyone on the scene had their own spoof of the song, but we've isolated our two favorites.
Conan's "Thursday":
Jimmy Fallon / Stephen Colbert cover:
23. Triumph Occupies Wall Street
Series: Conan
Original Air Date: November 3, 2011 on TBS
Just like in 2010, Conan O'Brien had an eventful year, with, for example, his great documentary, but the highlight of the year for Conan was the week he spent in New York filming his show. The stunt brought us some great moments, including the return of the Masturbating Bear, a live gay wedding officiated by Conan himself, cameos by Stephen Colbert and Jon Stewart, and a great interview with Louis CK. But nothing was more satisfying than to see the return of the infamous Triumph the Insult Comic Dog.
The puppet, voiced by Robert Smigel, had been a staple of the old Late Night show, but his status was sort of in limbo when Conan left NBC. No one knew who Triumph really belonged to. Whoever might have held the rights let Conan use him for his return to New York, where Triumph invaded the camp grounds of the infamous Occupy Wall Street movement, and as you can imagine, hilarity would ensue.
22. Jon Stewart Impersonated Glenn Beck For Entire Episode

Series: The Daily Show with Jon Stewart
Original Air Date: April 7, 2011 on Comedy Central
Jon Stewart's Glenn Beck impression has been well-documented in the past. It really boils down to just a pair of black-rimmed glasses and a chalkboard, but Stewart has never wasted an opportunity to mock one of the more ridiculous right-wing nuts on television. That's why Beck's departure from Fox News this past spring was bittersweet. On the one hand, it meant that Stewart would have to retire the impression once and for all. On the other hand, Stewart didn't waste his chance to mock him one last time, and he did so in epic fashion, donning the glasses and Beck's melodramatic tone for an entire episode (minus an interview that Stewart himself said you probably didn't watch). The result was nearly 20 glorious minutes of Stewart tearing Beck a new one.
21. Jeff Goldblum is Ruxin's Dad
Series: The League, S03E08 "Thanksgiving"
Original Air Date: November 17, 2011 on FX
Over the last couple of years, The League has had some pretty great guest stars. Aside from all the football personalities, we've seen the likes of Seth Rogen, Sarah Silverman, Will Forte and T.J. Miller pass through various episodes of FX's fantasy football spoof. But none of these guest stars measure up to the role played by the amazing Jeff Goldblum late in season 3 as Ruxin's (Nick Kroll) dad. The casting was absolutely perfect. Not only do they look alike, but Goldblum was able to match every single one of the character's quirks. In effect, papa Ruxin ended up becoming sort of a caricature of Ruxin himself. Season 3 of The League wasn't the show's best, but it's moments like these that keep us coming back for more.
20. The Simpsons Christmas Episode
Series: The Simpsons S23E09, "Holidays of Future Passed"
Original Air Date: December 12, 2011 on FOX
It's no secret that The Simpsons haven't exactly been producing quality material these last few years. The show has been on a downward spiral for the better part of a decade, maybe longer. But that hasn't stopped the show from giving us the occasional gem, and the latest one was actually their final episode of the year. Ironically, it would be with arguably the least original idea they've had in a while: look at how their characters are fairing 30 years into the future, and no less on Christmas. But you know what? It worked. It was a feel-good episode, and that's not something you can often say about The Simpsons these days.
19. Li'l Sebastian Dies
Series: Parks & Recreation S03E16, "Li'l Sebastian"
Original Air Date: May 19, 2011 on NBC
In all my days, I never thought I'd be writing about the death of a fictional miniature horse. But here we are. Maybe the strength of a comedy is its ability to make the most ridiculous of characters seem important. That's exactly what Parks & Rec did with Li'l Sebastian over the years. The miniature horse was very important to many of Pawnee's characters, and his death served a noble purpose of pushing the show's storylines further, but also offered some great gags, including 5000 Candles in the Wind.
18. The Lonely Island's "Jack Sparrow"
Series: Saturday Night Live, S36E20, Tina Fey/Ellie Goulding
Original Air Date: May 7, 2011 on NBC
BWP's Song Review: 9.5 out of 10
2011 gave us many great Digital Shorts and Lonely Island songs, both through SNL and thanks to the group's second album, "Turtleneck & Chain", but none of them were more mesmerizing and ridiculous than "Jack Sparrow", the group's tribute, if you want to call it that, to the legendary Pirates of the Caribbean character. While the film series hasn't exactly measured up in terms of quality, Jorma, Akiva, Andy and special guest Michael Bolton (you read that right) helped keep Johnny Depp's character relevant in 2011. You really need to watch this for yourself, but who are we kidding? If you haven't seen this yet, then you're probably in the wrong place:
17. Violet's Realizes She's Dead
Series: American Horror Story S01E10, "Smouldering Children"
Original Air Date: December 7, 2011 on FX
(Contributed by Matt Bradley)
By far my favourite moment in the entire series was the revelation that Violet had died in her supposed botched suicide attempt four episodes earlier. Tate attacks Ben, trying to buy some time in order to get Violet to kill herself so they can be happily together forever. Violet, visibly shaken, tries to flee the house, only to find that Tate has attacked her dad. Terrified for her life, she runs outside and desperately tries to gather the attention of a couple of joggers, but only the dog notices her screams. This was the moment that tipped me off. Why would the dog hear her and not the couple?
Tate, in an effort to calm her, led her to the crawl space in the basement. It was here that Violet came face to face with her decaying body. Tate explains to her that when he tried to save her a few episodes earlier, he could only get her to spit up a few of the pills she took. She dies in Tate's arms, and as he put it, 'In love'. He tried to get her to commit suicide of her own will so she would be happier with her choice, as he didn't want Violet to know her death was an accident. He also confirms that he knows he's been dead all along, which was a great move, as Tate is a very smart character. It wouldn't have made sense for him to be unaware.
All in all, AHS gave us some very good TV moments this year, and I find myself eagerly awaiting the second season. I would love to see what they do next, especially as it will be all new characters with a whole new setting.
16. Fat Mac: Rob McElhenney gains 50 pounds for the sake of comedy
Series: It's Always Sunny in Philadelphia, Season 7
Usually, when a show starts nearing double digit seasons, the content starts getting a little thin. The stars start caring more about the money going in their wallets and they start running out of ideas. Rob McElhenney, better known as It's Always Sunny's Robert "Mac" McDonald, didn't want this to happen on his show, so he decided to gain 50 pounds. For the sake of comedy. And it was incredible. What made it even funnier is that his character is notoriously vain and shallow. It was no doubt the source of a lot of hilarity on the show, but after nearly doing irreparable damage to his body, "Fat Mac" would lose most of the weight during filming, but we'll always remember those glorious times with Fat Mac.
15. Marshall's Dad Dies
Series: How I Met Your Mother S06E13, "Bad News"
Original Air Date: January 3, 2011 on CBS
How I Met Your Mother has decidedly taken a turn for the more series this past year, and it started pretty early with the first episode of 2011, titled "Bad News". Marshall and Lilly argue over whether to tell Marshall's dad that they're having trouble conceiving. The episode seems pretty tame, but there's a peculiar distraction as the episode progresses. It seems as if the show was subtly counting down from 50. The anticipation grows as we get closer and closer to the big number, and when we finally do, we get the most gut wrenching news in the show's history; Marshall's dad has passed away. The twist may have felt a little shallow, but it was very well executed, and the show would keep the ball rolling throughout the year, culminating with last December's reveal that Robin couldn't have kids. And even if you feel like that twist may have been bigger and sadder, Marshall's dad passing away pretty much sets the stage and the mood for the rest of the series, and that's something that needs to be recognized.
14. Deb discovers Dexter's Dark Passenger
Series: Dexter, S06E12, "This is the Way the World Ends"
Original Air Date: December 18, 2011 on Showtime
BWP's Episode Review: 4.5 out of 10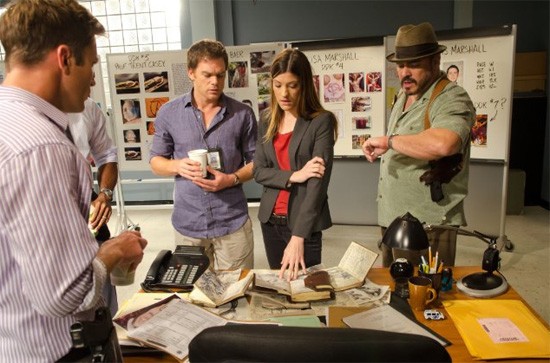 If you've been following our coverage of Dexter this season, you certainly know that we haven't thought very highly of it. Predictable twists, bad writing and cringe-worthy acting have made for 12 hours of the drama we'd rather forget. Still, Showtime promised us the set-up to Dexter's eventual endgame and that's exactly what we got in the season finale, as Dexter's sister Debra finale caught Dexter (Michael C. Hall) in the act, taking care of the ever elusive Doomsday Killer (Colin Hanks). To complicate matters, season 6 also revealed that Deb has semi-incestual feelings for her adoptive brother. As bad as season 6 was, season 7 should be interesting. That is, until the writers screw it up again.
13. Jeff and the dean sing "Kiss From A Rose"
Series: Community, S03E07 "Studies in Modern Movement"
Original Air Date: November 10, 2011 on NBC
BWP's Episode Review: 9.5 out of 10
You could pretty much take your pick of Community moments to put on the list, but one of my favorites of 2011 has to be Dean Pelton's and Jeff's outing at the mall, where the unusual duo winds up in a karaoke booth. Dean is the one who gets to choose the song, and decides to go with "Kiss From a Rose" by Seal. What follows is the most amazing musical medley ever seen on episodic television. Dean and Jeff get more and more into their song, while the other study group members join in, in their own situations. Pierce is suffering the effects of inhaling paint fumes, Britta and Shirley are transporting a demented drifter, and Troy and Abed are putting on a puppet show for Annie. You really have to see it for yourself:
12. AMC Fires Frank Darabont
Series: The Walking Dead, season 2
Read More: Frank Darabont "Walking" Away From "Dead" / Will Season 2 of The Walking Dead Be the Show's Demise?
While this entry into our list didn't directly appear on TV, its effect was definitely felt. Season 1 of "The Walking Dead" was universally praised by TV viewers as one of the best zombie experiences in media since George A. Romero was in his prime. While the show had its ups and downs, the presence of Academy Award-nominated director and writer Frank Darabont gave everyone faith that the series would continue to produce quality episodes. That's why we were all stunned when AMC decided to let go their star producer. Whether it was over budgeting or creative issues are still anyone's guess, but the consensus was that it was a bad move. The show suffered from the change early on, as the pacing was off and you could tell that the writers and producers were scrambling without the show's developer. While the first half of the second season would finish on a positive note, as you'll see later on in the list, the controversy that surrounded Darabont's firing really cast AMC in a negative light, and mired their top series for most of the fall.
11. Jimmy Meets His End
Series: Boardwalk Empire S02E12, "To The Lost"
Original Air Date: December 11, 2011 on HBO
(contributed by Phil Therien)
Boardwalk Empire is one of my favorite new shows because its characters are so well-crafted. Everyone is played masterfully, starting with Steve Buscemi as Enoch "Nucky" Thompson, a gangster/politician who ruled over Atlantic City during the prohibition era. Alongside Buscemi star Michael Shannon, Kelly Macdonald and Michael Pitt, who many feel is the real catalyst of the series. Not surprisingly, when his character Jimmy Dormedy met his end in this season's finale, many were critically upset and some even called for a boycott of the show.
The scene was nevertheless one of the most memorable in the series, with Buscemi's character insisting on doing the deed himself; something he hadn't done up until now. The moment takes place under heavy rain, where a stoic, unarmed Jimmy meets with Nucky's crew, fully aware it would be his last breathing moments. I personally loved the way they handled his demise, as I felt there was nowhere left to go with the character. After two seasons, Jimmy had stolen, killed, betrayed his mentor, stabbed his father and slept with his own mother. It was time to go.
-------------------------------
Stay tuned to BWP for the top ten TV moments of 2011 in the coming days!
Make sure to follow Better With Popcorn on Twitter @BWPFeed!
Die Hard named the greatest movie of all time. Just deal with it.
Leave a comment in one of our reviews, if you dare.
Welcome to Better With Popcorn. We've got fun and games.
All your blog belong to us.
Check Out These Other Awesome Sites.