'Breaking Bad' Spinoff Starring Saul Goodman Now A Real Possibility At AMC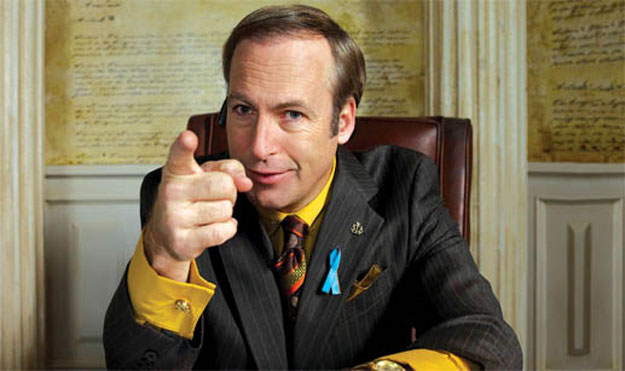 Upset that there are only eight more episodes of Breaking Bad on their way this summer? Better Call Saul!
Last summer, as the first half of season 5 was airing, series creator was reportedly considering a Breaking Bad spinoff starring Bob Odenkirk, who of course plays criminal attorney Saul Goodman (emphasis on the "criminal"). It was just an off-hand comment on the part of Gilligan back then, but now, Deadline is reporting that this rumor could be a real possibility.
Apparently, AMC is considering somewhat extending the existence of the Breaking Bad universe on their network with a show following the sleezy attorney who helps Walter, Jesse and their friends/enemies, from Gilligan and writer/producer Peter Gould, who originally conceived the character for a season 2 episode of Breaking Bad.
Few details are available on what any spinoff might look like, especially considering that those details could potentially spoil some aspects of the final eight episodes of the main series before they air, but I envision what essentially amounts to a lawyer dramedy similar to Boston Legal or Franklin & Bash, where Saul continuously finds ways to get out of actually going to court with his obviously guilty clients. What remains is to see whether this might be a prequel, sequel, or even something that could air during the same timeframe as Breaking Bad (which would open the door to many cameos and stop the series short of spoiling anything).
We'll have to wait and see, but this is something that needs to happen. For now, you'll have to watch through Breaking Bad one more time while waiting for the second half of season five to begin on July 14th, 2013 on AMC.
Make sure to follow Better With Popcorn on Twitter @BWPFeed!
Die Hard named the greatest movie of all time. Just deal with it.
Leave a comment in one of our reviews, if you dare.
Welcome to Better With Popcorn. We've got fun and games.
All your blog belong to us.
Check Out These Other Awesome Sites.