"Moneyball" Review: Not Your Typical Baseball Film
If you're holding out on going to see "Moneyball" in theaters because you don't like baseball, simply put, don't.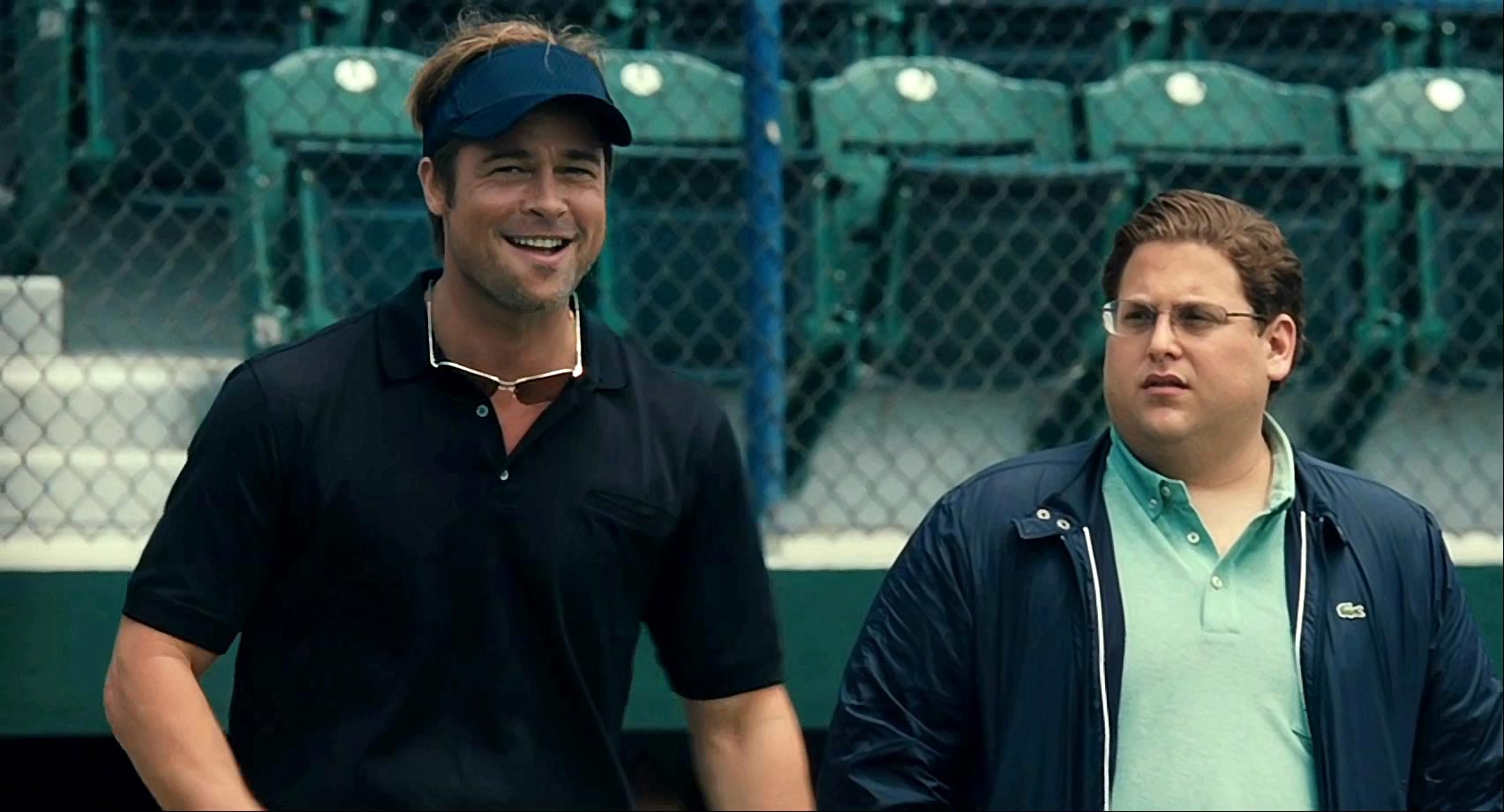 Starring Brad Pitt, Jonah Hill and Philip Seymour Hoffman (bet you would have never guessed to see that named sandwiched between those heavy hitters -- no pun intended), Moneyball isn't your typical baseball or sports movie. And even though it lends credence to the age old Hollywood fact that pretty much any movie about sports is watchable, it doesn't do it in the classic way. Instead, the film takes a look at the often neglected side of sports -- the business side, the side of the guy sitting in a chair, in an office, figuring out how to make his team work, reflecting on a failed career on the other side of his window looking onto the elusive baseball diamond.
One would think I'm a little bias here. Most of you know that I run a hockey website and that I'm pretty big on sports, especially the business side of things. But I'm far from a baseball fan. When I first heard about this movie, it was more than likely going to be a pass on my part. I can barely sit through five minutes of the sport, yet alone two hours glorifying it. But in its own words, Moneyball romanticizes baseball. It draws attention to parts of the game many people might not have known to exist, and it takes a game that many may find boring and turns it into something interesting, thanks to the numbers and business behind all of it. But of course, there's still more than enough there to satisfy the baseball fans as well.
Based on a true story and a book of the same name by Michael Lewis, Moneyball is the take of Billy Beane (Brad Pitt), a former ball player turned general manager who always failed to meet expectations. After signing a lucrative contract to play for the Mets at 18, Beane couldn't face the pressure, and his career floundered. He quit earlier than most to become a scout, and rose the ranks to eventually become the GM of the Oakland Athletics, where he once again failed to rise to the occasion in the playoffs. Despite having some success, ownership couldn't afford to keep his star players, and the A's were gutted of the likes of Jason Giambi and Johhny Damon, forced to put together a team on a budget that put them well below all the other teams in major league baseball.
Enter Peter Brand (Jonah Hill), a young graduate of Yale who Beane recruits from the Cleveland Indians to be his assistant general manager. Brand develops a system that would allow a team on a budget to put together a championship team, using baseballs underdogs and forgotten players in order to "buy" the runs they needed to win games, leaving behind huge contracts, and archaic views, focusing on nothing other than runs. While Beane and Brand manage to alienate their scouts, support staff, even their coach Art Howe (Philip Seymour Hoffman), they stick to their guns through the thick and thin, even while their team is losing.
What separates Moneyball from other films about the sport is the characters' ability to learn from their mistakes and grow. While Beane is quick to adopt Brand's plan to build a team of underdogs, he quickly realizes that he himself needs to grow, tweak and change if he stands any chance of winning, and once he does, he finally begins to see the fruits of his labour. In a way, the film is a coming of age story.Billy Beane, a family man and in a lifelong love affair with baseball, is stuck in a rut and in his old ways, but when he's finally put up against a wall, he fights back and adapts to survive. By the end of it all, he's a new man, one who may not have gotten his way but also a man who can appreciate what got him to where he is.
Unlike what many sports films would have you believe, Moneyball doesn't make Beane larger than life, it doesn't caricaturize him. Instead, it presents a down-to-earth and humble man who just wants to prove himself to his family and be involved in the sport he loves. And that is what's so endearing about the film.
Moneyball wouldn't be possible without stellar performances from its cast. Pitt may have given the best performance of his career. Maybe now that he's a little older he can play characters that are a bit more diverse, but his portrayal of Billy Beane does seem like a bit of an escape from his normal roles on the surface. Still, you forget all about that during the film and accept Pitt as this character.
Alongside him is Jonah Hill, who also may have given the performance of his career. We all know Hill for playing the sleazy, awkward overweight guy in many comedy films, and while that fat awkward definitely comes out many a time in the film, you can really appreciate the nuance and subtlety in his performance as Beane's assistant GM. Hill struggles with a couple of his more dramatic lines, but it's incredibly refreshing to see him in such a different role -- and enjoy it while it lasts, because he's skinny and weird looking now. But the real breakout of the film may be Chris Pratt. You may know him as Andy the shoe shiner on Parks & Recreation, but as it turns out, the dude has some chops as Scott Hatteberg, the A's timid first baseman.
Beyond the cast, the main crew of the film may be slightly incredible when you first take a look at it -- interesting, considering it's a tale about underdogs. The script was co-written by Academy Award winners Aaron Sorkin and Steve Zaillian -- who previously worked together on Schindler's List, and the two seem to bounce off each other well. The script was probably a bit "by the numbers" (pun definitely intended) thanks to the fact that the story is basically outlined by reality, but Sorkin and Zaillian still had to create a new character in Peter Brand and put it all together in a compelling and well-paced way, and they definitely succeeded.
The film was directed by Bennett Miller (Capote), who doesn't have much experience behind the camera, and frankly, had to fill the shoes of Steven Soderbergh, who was one attached to the film, and even David Frankel. Again, Miller probably didn't have that difficult a job to do thanks to a great script and cast, but again, he bundles it all up together nicely. Add to that great, creative cinematography from Academy Award winner Wally Pfister (Inception, The Dark Knight) which once again takes an often told style of film and twists the visuals into something original, and very understated music from Mychael Danna ((500) Days of Summer, Little Miss Sunshine) that's reminiscent of the Oscar-winning score from the Social Network. If Moneyball's strengths are in its acting, all the other elements of the film's production only add to that.
If we had any complaints about the film, it's that it kind of short-sells its supporting cast. While, as mentioned, the film doesn't over-glorify Beane as a character, it definitely skirts the line a few times, leaving Hill's and Hoffman's characters are afterthoughts, even if they may have had a little more to do with the A's success in the real-life story. We see Beane struggle with raising a daughter and with his own problems all throughout the film, but Hill's character seems to be a little shallow. Sometimes, almost as if he was just kind of there so Pitt would have someone to bounce off of in the film. It would have been nice if the script went a little deeper into his character, as well as Hoffman's.
If you see the words "Oscar" and "Academy" repeated frequently not only in this review, but elsewhere among critics, it's because Moneyball is almost certain to clean house come the Oscar nominations early next year. Not only is it an Oscar-worthy movie, it's truly one of the best films of the year and one of the best sports films in a long time. Don't be surprised to see several of the above names come up in January and February, because they truly deserve it for the spectacular, heartwarming, and incredibly interesting film they've managed to put on screen, that balances drama, humor and even a little action to near perfection.
Leave it to Sorkin and Zaillian to make a movie about baseball stats interesting.
"Moneyball" gets a freshly popped 9 out of 10.
Make sure to follow Better With Popcorn on Twitter @BWPFeed!
Die Hard named the greatest movie of all time. Just deal with it.
Leave a comment in one of our reviews, if you dare.
Welcome to Better With Popcorn. We've got fun and games.
All your blog belong to us.
Check Out These Other Awesome Sites.