Tom Hardy Challenges a Heavyweight Boxer and Acts with Patrick Stewart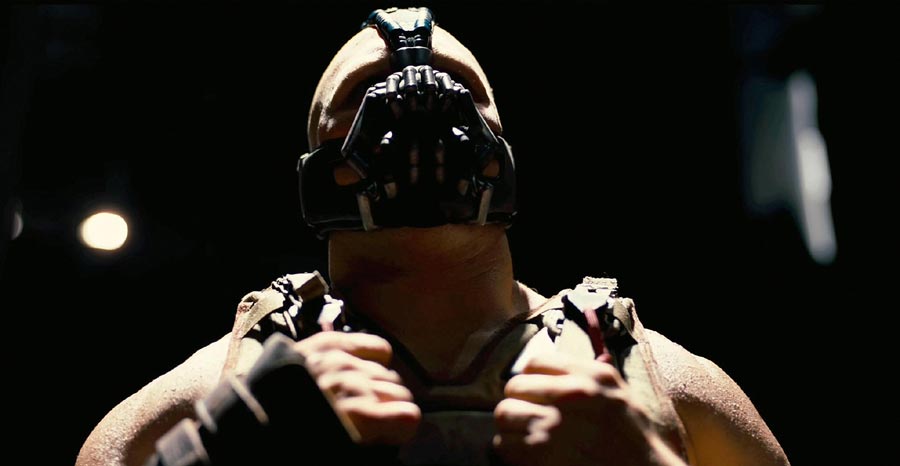 In case you needed any more reasons to believe that Tom Hardy was awesome, other than his performance in The Dark Knight Rises as Bane and this pic of him from the movie Bronson that basically led to that casting, we've got a few tidbits that will certainly confirm it as fact for you.
The first is that the actor has agreed to step into a boxing ring with heavyweight pugilist David Haye (here he is holding a sledgehammer, as if his onslaught of muscles weren't enough to intimidate you), so long as all the proceeds go to charity.
Last week, Haye said that he would love to face Hardy, citing that he had to be in tremendous shape. "He looks like an absolute tank," said Haye, "he can be my next opponent."
Hardy, 34, who of course starred in the critically acclaimed MMA film Warrior last year, before he booked the role in Christopher Nolan's final Batman film, has to be in great shape, but that's movie shape, not necessarily fighting shape. Haye, who's nickname in the ring is "Hayemaker", is an absolute beast of a boxer, and will likely tear Hardy to shreds. But Hardy is pure class in his response to the "challenge", as he says he'll fight Haye when he gets back from filming a movie in Congo:`
Quote:
"Hardy v Hayemaker? No problem. Let me take my make-up off first. I'll fight him as soon as I get back from the Congo with my mates if he wants. I've never fought a professional heavyweight, it'll be an experience. I would obviously prefer my first professional fight to be against someone in my weight category but hey-ho. Let's have it. We all know how this is going to end don't we... not good for Tommy.
"This is sort of like Mickey Rourke. But Mickey's a better actor and boxer than me. How about singing lessons instead?"
Interestingly, Haye has said that he'd like to try acting himself.
If the fight happens, it will probably be incredibly one-sided, but it sounds like both are in it for fun and charity.
---------------------
Secondly, here's a screen test for a very young Tom Hardy auditioning for his first major role in Star Trek: Nemesis, a long time ago, where he plays a younger, cloned version of Patrick Stewart's Captain Picard. The movie was forgettable and quite frankly a creative mess, but Hardy's performance was one of the few highlights of the film, and this screen test proves that he can hold his own alongside an amazing actor such as Sir Patrick Stewart.
Here's the video, which is interlaced with footage from the actual film, as Hardy shows off some of his chops (much different than the ones he'll have to show David Haye):
Hardy will next star in the upcoming reboot of Mad Max: Fury Road next year.
Make sure to follow Better With Popcorn on Twitter @BWPFeed!
Die Hard named the greatest movie of all time. Just deal with it.
Leave a comment in one of our reviews, if you dare.
Welcome to Better With Popcorn. We've got fun and games.
All your blog belong to us.
Check Out These Other Awesome Sites.